The Authoreon token is based on the open source, Ethereum, and blockchain protocol that offer the complete virtual machine enabling the smart contracts. This kind of the token is used to access in the different platform such as transferring an asset, registering the asset, and other authorization features.
The Authoreon token is authentication, verification and thus protecting unsecure functions. The solution of token prevents the materials, fraud, identity theft, cyber attacks and others. They offer traceability to supply. This kind of the token does not confer the ownership share, security and others. The symbol of the Authoreon Token is AUN.
The Authoreon token accepted the different types of the payment methods such as ETH, LTC, Paypal, BTC, DASH, BCH, and others. The Price of Authoreon token is $0.15 at 1 AUN. The author token is developed in the Ethereum platform. The company is located in Singapore and category of the token is software.
Authoreon is Safest and Securest
Authoreon is decentralized blockchain platform. Authoreon authorize, authenticate, verify & certifies the block chain transactions. This prevents so many existing issues that we have with block chain and other ecommerce platforms, some of these issues are cyber-attacks, identity theft, password breaches, frauds, fraud documentation, etc.
Ethereum's smart contracts are the backbone of Authoreon platform. Authoreon provide best Authorization & Authentication features to its user to offer them highly secure blockchain-technology solution. Authoreon uses decentralized EVM (Ethereum Virtual Machine) and provide functionality of smart and security rich contracts to its users. Authoreon keeps the data completely confidential and secure. Authoreon platform prevents frauds, password breaches, identities theft, fraud documentation, cyber-attacks.
Some of the Major Advantages of Authoreon Blockchain Technology
It solves issue of Privacy Conflicts
Authoreon Blockchain technology resolves Privacy Conflicts by confirmation of transaction, dissolution transaction, authentication of request and official's permission and finally by verification and by provide security certificate it brings security level to new hights.
It offers Ideal market place to its users
With increasing threats of cyber-attacks, password breaches & identities thefts Today's marketplace require highly secure feature. Authoreon provides high degree of and resistance to all above mentioned issues. This make Authoreon ideal marketplace to user by providing best products and services which are backed by highly secure and safe smart contracts.
Safe and Secure Transaction.
As we know Authoreon offers decentralized blockchain platform which offers effective security management system and best security to its users. On top of it Authoreon authorize, authenticate, verify & certifies the block chain transactions which prevents unauthorized person or hackers to access to harm its users.
With Authoreon it is easy to Recover and Backup data
Authoreon provides best Recovery and Backup feature of data. Authoreon offer the Access-Lock Layer as the gate keeper. Athoreon uses ²²-key-algoritum. This Alog. provides one static & dynamic key options. This offers easy to Recover and Backup of data. This algorithm is far better than two-factor authentication.
The general architecture of the Authoreon platform includes several components that use the properties and characteristics of blockchain, cryptography, AI, and maximum permutation, authorization and security tracking.
We achieved this by creating two separate overlay protocols at the top of the block chain: synapses and key access levels.
This three-layer architecture provides ownership and decentralization of authorization through contracts using smart applications in combination with interplanetary databases (IPDB) and interplanetary file systems (IPFS). All transactions of the Authoreon platform will be determined by an application-specific token, Autoin (AUTH).
Authoreon is based on open sources, sensors and innovative open source genetic platforms and distributed ASUS platforms that provide a complete virtual ethernet (EVM) machine, enabling the implementation of a smart contract.
In general, a blockchain is a distributed database that allows you to use a book of assets and digital transactions that are distributed among distributed user networks and, thus, can be solved. Using advanced cryptography, the block chain allows each network member to safely interact with digital registration and without the need for central authority. Since each network member stores a copy of the block chain, and all previous transactions are permanently fixed before they can be added, it is very difficult to change or delete the data in the blockchain.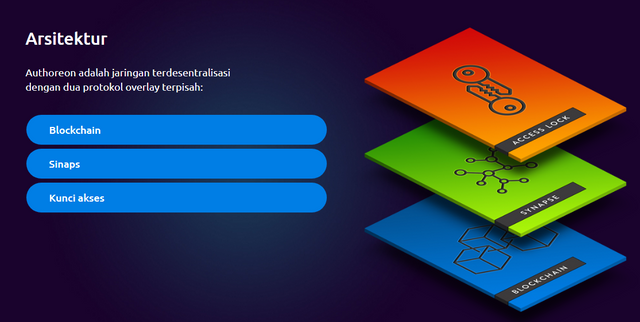 Participation in the system will be ensured by the overall production function.
Platforms
The Authoreon solution platform will be available through a graphical graphical GUI application (GUI) that will be optimized for MetaMask, but will work in decentralized browsers (for example, Mist).
Mobile app
All the functionality of the platform will be fully reflected in the mobile application (for Android, iOS and Windows) to enable the functions of key authorization, interaction with mobile devices and wallets.
Smart contracts, like-service
The platform will offer many modules, each of which will handle different uses, each of which will operate under Smart-Contract-as-aService (SCaaS), each of which has different processing speeds and costs.
Plugins, API, and Marketplace
In mid-2018, plug-ins and extensions will be available for third-party systems, the platform will be examined using the API with a 2² protocol for external developers and will include markets for third-party extensions.
Authoreon platform provides secure platform to traditional inefficient methods. The solution is best suitable to private organizations, government institutions, investors & traders and for other private customers too.
Authoreon platform will eliminate unnecessary market barriers by issuing Autheon Token. Conversion of other cryptocurrency to Autheon token'll run in backend. This process makes Authoreon platform independent of currency which enables customers to use other major giant Crypto-currencies as a payment medium.
AUN is available on several exchanges
Share This :