For many, cryptocurrency remains a mysterious fad, another topic that millennial techies like to use to confuse their elders. For others, it's become a viable workaround to the characteristically fragile and contrived currency systems upon which the global economies depend. The practice of playing cryptocurrency values as one would publicly traded stocks has caught on as a popular—and in some cases, very lucrative—practice. Still, the idea of day trading cryptocurrency isn't the most intuitive. One company has been trying to change that. Blockium, an outgrowth of Fokoya, hosts daily mock-trading competitions.
The tournaments are either free or cost a small amount to join. Before they begin, players pick three stocks or coins to either buy or sell. Based on the value won or lost during the duration of the tournament, Blockium selects winners, who are awarded cash prizes.
Blockium was founded based on the principle that financial trade is a peer to peer action," said Gilad Raz, Co-founder and CEO of the Tel Aviv-based company. "Our strategy is to combine markets by bringing innovative concepts to them The first version of the concept over a year ago, was creating interactions between opposite financial positions in real time. Since then the concept had a few evolutions, the latest of which is our exciting live trading tournaments. The users create portfolios of stocks, currencies and cryptocurrencies and compete against friends and strangers, learn and progress in financial trading, and win real money. The company's peer to peer vision allow us cut out brokers, account managers, and institutions, and to bring much fun and excitement to financial trading.
About the project BLOCKIUM
Today, IEO Blockium is our guest. What does this startup intend to do? First of all, it implements a wide range of technological capabilities of the P2P market. Now we are waiting for even more interesting features with which you have never crossed paths before.
This approach will allow integrating the entire system as a whole to the highest level of the financial market, and only peering technologies will be used. We are seeing a combination of games and finance. Also, traders will have the opportunity to increase trading skills and at the same time receive high profits, and with minimal risk.
Trading stocks, cryptocurrency becomes even more profitable, as they use advanced technologies in the work, namely blockchain. It is important to note that the architecture of the code itself, including the variety of libraries, will open up unlimited possibilities for users. as well as marketing channels and so on.
Blockium: Trading Made Easy
Blockium is an asset trading platform that is designed to make buying and selling of assets easy. The Blockium platform gives traders a chance to transact their assets against other traders. Even after a decade of cryptocurrency and dedicated exchanges, cryptos are something of a mystery for beginners. Not unlike traditional trading, the digital assets (with their volatility and other characteristics) are yet, a lot different to trade.
Blockium is a platform that allows traders of all ages and background to learn the tips and tricks of crypto trading with the help of gaming. The platform holds daily competitions in which traders can compete with others in a mock competition. The tournaments run around traders selecting three stocks or cryptos that they can buy and sell during the course of the competition. Based on the value of stocks at the end of the session, winners are given prizes.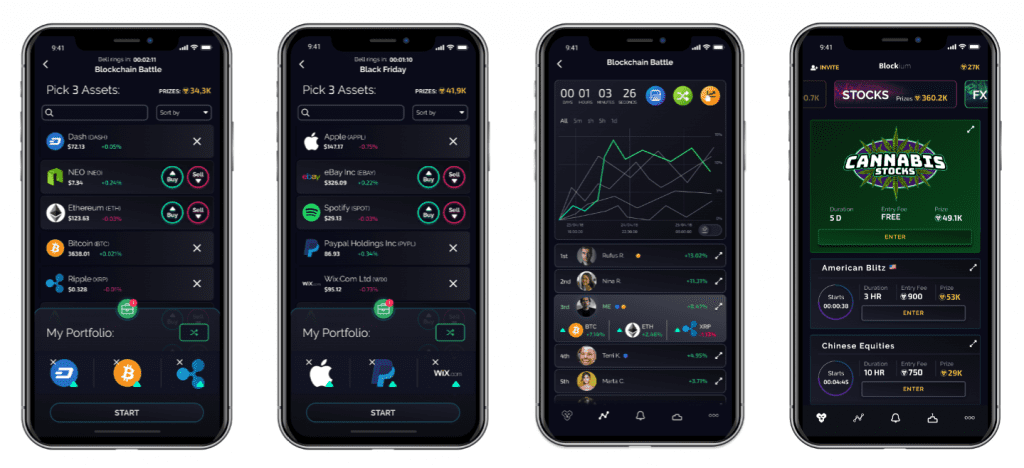 Blockium, as a trading competition platform, is holding its token generation event. A unique growth in the crypto industry, the platform will not be offering its tokens to the public through a smart contract or other means. Instead, the platform will be using what is called Initial Exchange Offering, or IEO. The offering will be held with the partnership of Coineal, a crypto exchange platform.
The sale of Blockium tokens, BOK, will be run through Coineal and Bitforex, where the exchange traded tokens will be used to raise funding for the Blockium platform. The offering will not only help the platform, but allow users to invest in tokens that will rise in value, since they will form the monetization backbone of the Blockium platform. Through the IEO, Blockium offers its users to be a part of its ecosystem and take ever more part in the competitions for more monetary rewards.
The Blockium platform will be powered by its native token, the BOK. Available to backers through the crypto exchange Coineal, there will be 650,000,000 BOK tokens available for sale, representing around 8% of the total supply. The IEO has a hardcap of USD 1.2 million with one BOK token available for USD 0.023.
Blockium is a product of Fokoya gaming company which doubles up as a platform to combine gaming with real investment in the stock markets. Blockium is the company's aggravated shift to include cryptocurrency into their list of finance-based gaming platforms with a fantasy sports model. Moreover, Fokoya prides itself on having several already existing financial gaming platforms and a working database for those interested in cryptocurrency.
Contact ME!!
Bitcointalk Name; longgong
Email: ortega02gerica@gmail.com
ETH: 0xD748a3fE50368D47163b3b1fDa780798970d99C1
Share This :